Paper Bags
Special features such as Spot UV, Die Cutting or UV Coated.
We specialize in customizing bags to your specifications but also carry a wide variety of bags in stock. And since paper is an excellent printing surface, most of our styles can be customized to your specification.
Paper Bags Advantages
 Can be customize size and design
 Special features such as spot uv, die cutting or uv coated
 Can use several papers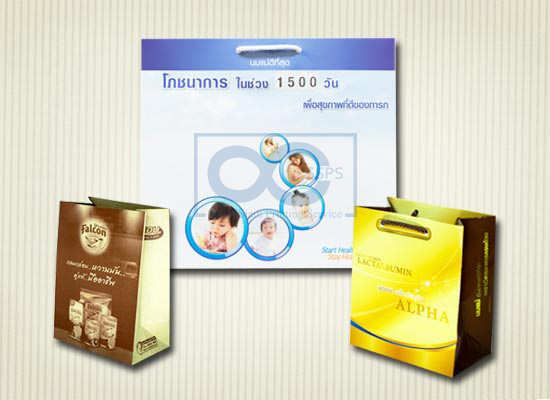 Size for Paper Bags
Paper bags are available in a range of sizes, degree of protection and resistance can be customized according to your specific needs, varying the number of layers, paper density and type of paper used; bags can be further customized with two-colour company logo printing.
Paper Bags Material
Most people are familiar with a variety of paper bags, such as kraft grocery bags, small paper lunch bags, and many types of small, often printed bags used to package goods at retail outlets. Moreover normal paper ca also make paper bag such as art card 260-360 gsm.
[GRS id="17″ view="Thumbnail" theme="2″ width="180″ height="180″ contWidth="100″ imagesPerpage="20″ pagination="scrolling" title="no" orderBy="order" ordering="ASC" polaroid="0″ clickAction="openLightbox" openLinkTarget="_top" lightboxWidth="600″ lightboxHeight="600″ lightboxFilmstrip="0″ lightboxComment="0″ lightboxContButts="1″ lightboxFullW="0″ lightboxFButt="0″
lightboxGButt="0″ lightboxTButt="0″ lightboxFsButt="0″ lightboxAP="1″ lightboxAPin="2″ lightboxImInf="0″ lightboxSwipe="1″ lightboxImCn="0″ lightboxEffect="fade"]
Our policy is to satisfy our clients with the best quality and care.
We facilitate the complicate printing procedure for our clients from the beginning to the end, to assure the top quality and on-time production.
We take care of your projects in every single step of production and keep informing you the progression.