Posters
Direct marketing to consumers.
Posters are sometimes huge and can be seen from a long distance and may appear along or on the sides of buildings. Posters may also appear in much smaller versions, sometimes like a postcard, and are called handbills. Whatever the size or shape, posters have a job to do and that is to convey information.
Poster advantages
 Low cost printing
 Custom design and size
  Can be print in several kinds of paper
  Can be seen from a long distance and may appear along or on the sides of buildings
 Direct marketing to consumers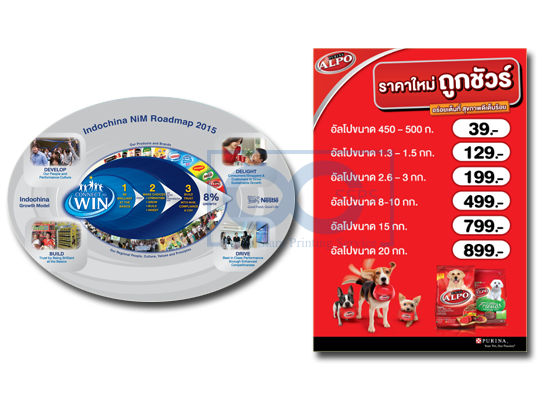 Standard size for Poster
 Poster size A3 : 297 X 420 mm
 Poster size A2 : 420 X 594 mm
 Poster size A1 : 594 X 841 mm
Poster size A0 : 841 X 1189 mm
Poster Printing Paper
 Gloss or matte paper thickness 120,160 gsm
 Art card paper thickness 190,210, 230, 310, 360 gsm
 Strong paper thickness 270, 310, 350 gsm
[GRS id="20″ view="Thumbnail" theme="2″ width="180″ height="180″ contWidth="100″ imagesPerpage="20″ pagination="scrolling" title="no" orderBy="order" ordering="ASC" polaroid="0″ clickAction="openLightbox" openLinkTarget="_top" lightboxWidth="600″ lightboxHeight="600″ lightboxFilmstrip="0″ lightboxComment="0″ lightboxContButts="1″ lightboxFullW="0″ lightboxFButt="0″
lightboxGButt="0″ lightboxTButt="0″ lightboxFsButt="0″ lightboxAP="1″ lightboxAPin="2″ lightboxImInf="0″ lightboxSwipe="1″ lightboxImCn="0″ lightboxEffect="fade"]
Our policy is to satisfy our clients with the best quality and care.
We facilitate the complicate printing procedure for our clients from the beginning to the end, to assure the top quality and on-time production.
We take care of your projects in every single step of production and keep informing you the progression.