Stickers
Vary the design on each sticker sheet.
A type of label a piece of printed paper or plastic with pressure sensitive adhesive on one side. They can be used for decoration, depending on the situation. They can come in many different shapes, sizes and colours and are put on things such as lunchboxes, in children's rooms, on paper, lockers, notebooks and so on. Some people collect and trade stickers with other collectors, Temporary name tags are usually stickers.
Stickers Advantages
 Vary the design on each sticker sheet
  Perfect for address labels, product labels and more
 Low cost printing
 Can print both offset and silkscreen
 Premium semi-gloss or high-gloss UV coated paper options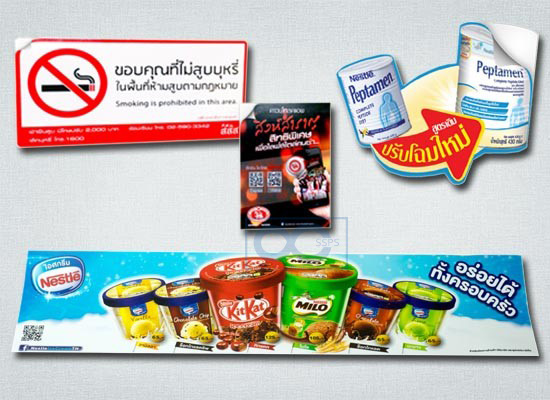 Size for Sticker
Can be customize design
 Paper Sticker
 PVC gloss or matte sticker
 Sticker foil
[GRS id="21″ view="Thumbnail" theme="2″ width="180″ height="180″ contWidth="100″ imagesPerpage="20″ pagination="scrolling" title="no" orderBy="order" ordering="ASC" polaroid="0″ clickAction="openLightbox" openLinkTarget="_top" lightboxWidth="600″ lightboxHeight="600″ lightboxFilmstrip="0″ lightboxComment="0″ lightboxContButts="1″ lightboxFullW="0″ lightboxFButt="0″
lightboxGButt="0″ lightboxTButt="0″ lightboxFsButt="0″ lightboxAP="1″ lightboxAPin="2″ lightboxImInf="0″ lightboxSwipe="1″ lightboxImCn="0″ lightboxEffect="fade"]
Our policy is to satisfy our clients with the best quality and care.
We facilitate the complicate printing procedure for our clients from the beginning to the end, to assure the top quality and on-time production.
We take care of your projects in every single step of production and keep informing you the progression.